Who says that Australia isn't dangerous?

We know it is – and we were happy that we didn't die during our visit in 2014. So should a Scottish woman visiting Australia be surprised that a snake hitched a ride in her shoe for the 9,300 mile ride home?
Moira Boxall had just completed her journey home from a flight between Queensland and Glasgow. As she unpacked, she was shocked to find a snake in one of her shoes.
The trip to Oz had been to visit her daughter, son-in-law and granddaughter and she originally thought her family was pranking her and that it was a rubber snake. But when she went to pull it out, the 2-foot long snake started moving.
"It was very frightening but I knew I had to get it out of the house as quickly as possible," she told The Telegraph. "I ran down the stairs with it to the garden.
"I put an empty carton of margarine over it and then a bucket and then a cardboard box which I put bricks on top of it."
Apparently she didn't want to take my advice, which would have been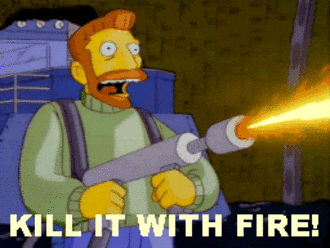 Instead, she called the SPCA, who identified it as a spotted python, which is non venomous.
The snake was put into quarantine and then rehomed in Scotland.
This isn't the first time a snake has been found in (or on) a plane in (or from) Australia. This 12-foot scrub python clung to a plane's wing during a 2-hour flight from Cairns to Papua New Guinea:
And this plane had to make an emergency landing when the pilot discovered a snake in the cockpit, just inches from his face:
You know, one of my bucket list things was to go to Sydney to see the New Year's fireworks. I think I may want to rethink that…
Like this post? Please share it! We have plenty more just like it and would love if you decided to hang around and clicked the button on the top (if you're on your computer) or the bottom (if you're on your phone/tablet) of this page to follow our blog and get emailed notifications of when we post (it's usually about 3 or 4 times a day). Or maybe you'd like to join our Facebook group, where we talk and ask questions about travel (including Disney parks), creative ways to earn frequent flyer miles and hotel points, how to save money on or for your trips, get access to travel articles you may not see otherwise, etc. Whether you've read our posts before or this is the first time you're stopping by, we're really glad you're here and hope you come back to visit again!
This post first appeared on Your Mileage May Vary