A couple of weeks ago, we wrote that the company that owns Casa Bonita, a decades-old Mexican-themed "entertainment" restaurant in Colorado, had declared chapter 11 bankruptcy earlier this year. In response, Trey Parker and Matt Stone, the co-creators of the South Park TV show, aimed to try to buy the restaurant.
Unfortunately, a few days later we read that although Parker and Stone had expressed interest in the purchase, Summit Family Restaurant Inc., the parent company that owns Casa Bonita, said they had no interest in selling the property.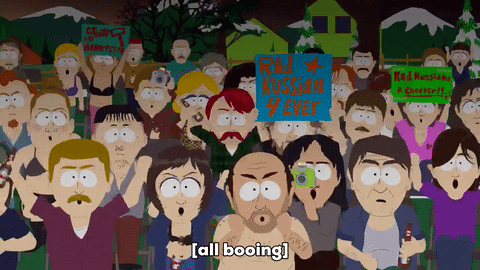 Welp, we're not sure what happened in the interim, but then, all of a sudden, the South Park guys mentioned in an interview with Colorado Gov. Jared Polis about two weeks later that they had come to an agreement with Summit Family Restaurant, Inc., and are indeed buying Casa Bonita.
"We're excited to work with everybody and make it the place we all want to make it," Parker was quoted as saying in the Associated Press.
Parker told The Hollywood Reporter the deal had closed that morning. "We bought it," he told THR. "It just feels natural."
Financial details were not disclosed, but Parker called the final price tag "fair."
From the AP:
Casa Bonita's 85-foot-tall (26-meter-tall) pink clock tower stands out in the otherwise nondescript strip mall. The 52,000-square-foot (4,831-square-meter) restaurant can seat more than 1,000 guests. The 30-foot-tall (9-meter-tall) waterfall at the center was designed to resemble the cliffs of Acapulco.
As for changes to the well-loved attraction?
"The one area that we would all love to see an upgrade — and I think I speak on behalf of everybody who patronizes Casa Bonita — is the food could be a little better," Polis said.
"I think it could be a little more than a little better," replied Stone.
The guys said they would make some upgrades, like having two gorillas in the skits instead of just one.
Stone said there are pending bankruptcy proceedings that still have to happen. Parker agreed and said that would take months but, "If it were up to us, we would have people in their right now working on it."
Joe and I have never been to Casa Bonita but it is RIGHT up our alley of all things quirky and kitschy. I already have tentative plans to meet a friend there when it reopens until Trey and Matt's ownership – she and her brothers (one of whom was my best friend) practically grew up there and has promised to show us around 🙂
Want to comment on this post? Great! Read this first to help ensure it gets approved.
Like this post? Please share it! We have plenty more just like it and would love it if you decided to hang around and get emailed notifications of when we post. Or maybe you'd like to join our Facebook group – we have 23,000+ members and we talk and ask questions about travel (including Disney parks), creative ways to earn frequent flyer miles and hotel points, how to save money on or for your trips, get access to travel articles you may not see otherwise, etc. Whether you've read our posts before or this is the first time you're stopping by, we're really glad you're here and hope you come back to visit again!
This post first appeared on Your Mileage May Vary